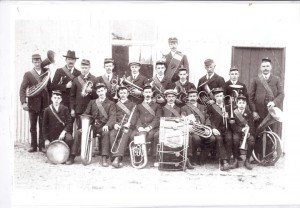 Since its inception in 1875 the Wolfe Tone Brass and Reed Band has provided a musical backdrop to community events in the Kildare/ Wicklow area and beyond, from being awarded the keys of the City of Worcester Massachusetts to appearing in a number of on screen productions alongside such luminaries as Richard Harris and Brendan Gleeson.
Many generations of band members have proudly represented the community both locally and on an international stage. However the band's primary focus has always been on local events from performing for Uachtaráin na hÉireann and celebrating the exploits of numerous local sporting heroes over the years to playing outside the Church on Christmas morning the band is proud to contribute to the rich tapestry that is community life in Ballymore Eustace.
In recent years the band has transformed from a marching band to a concert band with over 30 talented musicians playing at regular gigs. We rehearse in our own purpose built hall in Ballymore Eustace.
Join Us
Being a community band, our philosophy is based on inclusivity and participation and our members all share a simple desire to make the best music we can. So whatever your age, if you have some playing experience then we have a place for you. You can get in touch with us using the details provided here